将照片,音乐和视频从iPhone / iPad / iPod / Android备份到Mac或iTunes Library,在iPod,iOS和Android设备之间传输媒体文件。
[iSkysoft iTransfer 在官网售价59.95美元,约合人民币360元]
iSkysoft iTransfer for Mac 4.2.0.2 介绍
iSkysoft iTransfer elevates your experience of enjoying music to a whole new level. It breaks the barrier of iTunes for syncing music only to iPhone/iPad/iPod, letting you backup music from iPhone, iPad, iPod and Android phones to iTunes Library/Mac, transfer music from iTunes Library/Mac to iPhone/iPad/iPod/Android devices and transfer music between 2 devices visually. Supported audio files include:
1-click to Rebuild iTunes Library
Whether you lose your iTunes Library due to computer crash, virus attack or even you just switch to a new computer, you can rebuild your iTunes Library with everything intact. iTransfer makes it so easy for you: connect your iPod, iPhone, iPad or even Android device to your Mac > launch iTransfer > click "Rebuild iTunes Library", then everything, including songs, playlists, videos, iTunes U, audiobooks, and more are copied to your iTunes Library instantly.
Phone to Phone Transfer: Share Files between Devices
Own more than 1 device? The 1-click phone to phone transfer feature in iSkysoft iTransfer gives you the full solution to transfer music, playlists, videos, photos and more between any iPhone, iPad, iPod and Android device side-by-side. Just connect the 2 devices with your Mac, transfer as files between 2 devices visually.
Fix "iPhone/iPad/iPod Won't Connect to Computer"
Find your iPhone, iPad or iPod won't connect to computer or iTunes? It has been a common problem that people encounter regularly, and there isn't any useful way to fix it instantly. Powered by the latest technology, iSkysoft iTransfer can fix the problem with 1-click.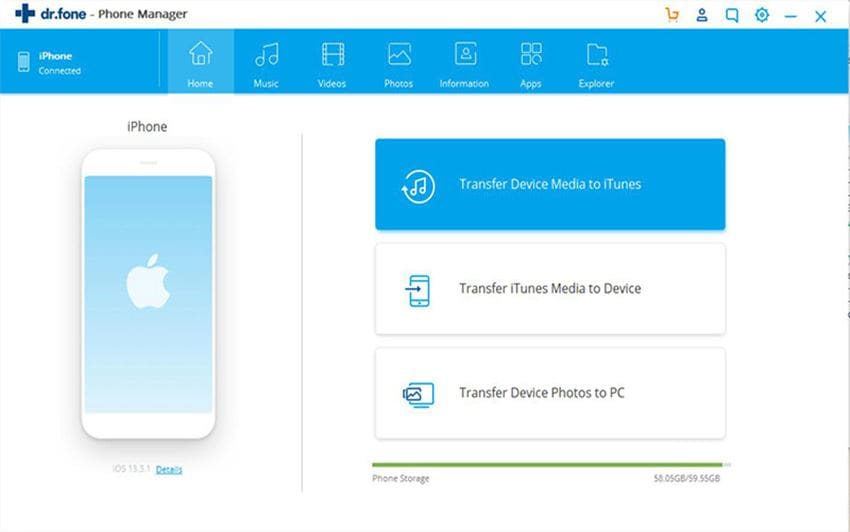 iSkysoft iTransfer for Mac 4.2.0.2 下载
云盘下载
高速下载
荔枝正版
打开App提示 「xxx.app已损坏,打不开。你应该将它移到废纸篓」,解决处理方法请进
本站所有软件均收集于网络,仅供个人测试研究,请在24小时内删除,如需商用请购买正版