Charles 是一款Mac上的HTTP代理服务器、HTTP监视器、反向代理服务器,可以让开发者监视查看所有连接互联网的HTTP通信,包括请求,响应和HTTP头信息等等,俗称"抓包"工具,对于Web开发人员来说是一款很有价值的辅助工具!
[Charles 在官网上售价50美元,约合人民币300元]
Charles for Mac 4.1.4 介绍
Charles Mac是一款免费的HTTP信息抓包工具,可以有效地获取HTTP通信信息,主要用于网页的开发和调试等,Charles Mac可以看json和xml。但是其实用Google Chrome安装插件也是可以看到漂亮的格式的,可以检查HTMl,CSS和RSS内容是否标准。
你打开他,然后点选Proxy –> Mac OS X Proxy。然后就可以看到你网络请求的数据了。在第一次打开的时候他会很温馨的提示你要不要设置为系统代理的。
对于iOS开发来说,截取到iPhone上的网络请求是很有用的。同理,也是可以获取到anroid设备的请求。
Charles is a web proxy (HTTP Proxy / HTTP Monitor) that runs on your own computer. Your web browser (or any other Internet application) is then configured to access the Internet through Charles, and Charles is then able to record and display for you all of the data that is sent and received.
Key Features
SSL Proxying: view SSL requests and responses in plain text
Bandwidth Throttling to simulate slower Internet connections including latency
AJAX debugging : view XML and JSON requests and responses as a tree or as text
AMF: view the contents of Flash Remoting / Flex Remoting messages as a tree
Repeat requests to test back-end changes
Edit requests to test different inputs
Breakpoints to intercept and edit requests or responses
Validate recorded HTML, CSS and RSS/atom responses using the W3C validator
Version 4.1.4:
Version 4.1.4:
Note: Version 4 is a paid upgrade from previous versions. Upgrade information can be found here.
New Features:
Support for Brotli compression
Bug Fixes:
Fix rare chunked response bug
Rewrite tool can now rewrite the Host to include a port
Minor Improvements:
Add -v command-line argument to display the current version
Windows Specific Improvements:
Fixes to split pane behaviour, including making it easier to resize, and showing the correct cursor
Linux Specific Improvements:
Use update-alternatives so Charles 3 can be installed alongside Charles 4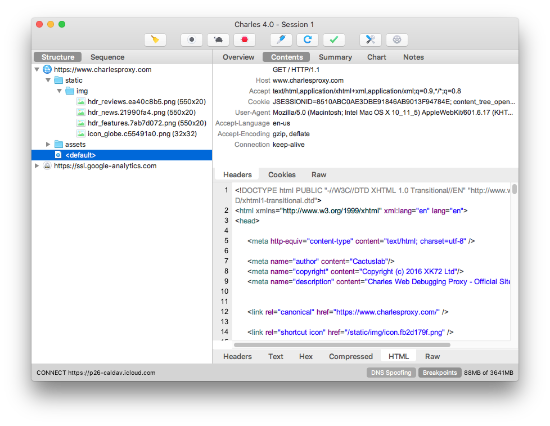 Charles for Mac 4.1.4 下载
Charles for Mac 4.1.4 破解版
赞助获取会员下载